Genealogy – the search for our greatest treasures – our ancestors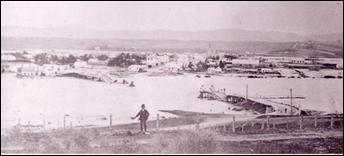 The "Great Flood"
15 October 1878
Please read information below then click on the links to begin your search:
What is the Master Index?
The Master Index is a simple index made up of our computerised branch indexes containing local material, books and other collections unique to the branch. It is made up of three columns – Surname, Forename/s and Name of Index held by branch.
Is this the same as the Master Index held on the branch computer?
No. This version is simplified, however it should be able to assist you in taking your research further. All other items like place names etc have been removed leaving only personal names.
What branch resources are on this Master Index?
Only local material and collections unique to the branch are on this index. Not all our local resources are added as yet. This project is ongoing with indexes being continually added at the branch level. We will endeavour to update this web version regularly. CLICK HERE for a list of indexes added to date.
How Do I Use the Master Index?
This index is surname based. When you are ready to search, follow the link at the top of this page. This will take you to the A to Z links. Click on the appropriate letter/s which the surname begins with. A new window will open. Simply move down the page to the surname you are looking for. There are often several entries for the one name as all indexes in which that name is found is listed. Make certain you try spelling alternatives, being careful particularly in Mc/Mac.
How Can I Get the Full Details of Information on Index?
We welcome queries and look-ups. Contact us at help.desk@balcluthagenealogy.org.nz
Please list details as found on the index in the body of your email.
Post and copying costs will be applied as incurred, and a small donation is very welcome.
NZSG BALCLUTHA BRANCH
Cemeteries
Allanton Cemetery to May 1980
Balclutha Burials 1912-1992
Balclutha Old Cemetery (Memorial Inscriptions)
Beaumont Cemetery to 1973
Chaslands (Heathfield) Cemetery to August 2001
Clarendon Cemetery to 1972
Clinton Cemetery to 2011
Crookston Cemetery
Ettrick Cemetery to 1973
Glenore Cemetery to 1991
Heathfield (Chaslands) Cemetery to August 2001
Kaik Cemetery to 1974
Kaitangata Northern Cemetery to November 1972
Kaitangata Old Cemetery to September 1972
Millers Flat Cemetery to April 1973
Milton (Fairfax) Cemetery to 1990
Milton (St John's) Cemetery to 1990
Nevis Cemetery to 1974
Otokia Cemetery to July 1972
Owaka Cemetery to September 2001
Papatowai Cemetery to September 2001
Port Molyneux Cemetery to March 1972
Purekireki Cemetery to September 2001
Ratanui Cemetery to August 2001
Romahapa Cemetery to August 2005
Taieri Beach Cemetery headstones to 1979, burials to 2011
Tapanui Cemetery
Tuapeka Mouth Cemetery to May 1972
Waipori Cemetery to 1974
Waitahuna Cemetery to 2011
Wangaloa Cemetery to 1972
Warepa Cemetery
School APW's
Awamunga School APW 1907-1938
Clydevale School APW 1898-1938
Greenfield School APW 1908-1938
Kaihiku School APW 1875-1930
Owaka School APW 1875 to 1922
Otanomomo/Paretai School APW 1914-1930
Popotunoa School APW 1895 to 1937
Puketi School APW 1913 to 1938
Purekireki School APW 1885 to 1925
Ratanui School APW 1889 to 1920
Tahatika School APW 1903 to 1923
Tarara School APW 1884 to 1919
Tawanui School APW 1907 to 1920
Tokoiti School Reunion List
Waitepeka School APW 1871 to Sep 1927
Local Histories
Balclutha Borough Diamond Jubilee (1870-1930)
Balclutha Gold Club Anniversary
Balclutha Public School 65th Anniversary (1865-1931)
Beyond the Blue Mountains
Blue Spur Centennial (1861-1961)
Catlins Pioneering
Catlins Rail 1878-1971
Catlins River Wisp Run
Corner of the Catlins
Faith and Toil – the story of Tokomairiro district
Faith of our Fathers
Fifty Years of SOCOLD (South Otago Freezing Company)
From the Days of our Glory (Waiwera and district)
Full Circle (Owaka & District Schools)
Further Memories of Early Kaitangata
Greenfield Pioneers by L E Smith
Henley, Taieri Ferry & Otokia
History of Te Houka
In the Crook of the Clutha
Kaitangata History
Landmark – a Century at Clinton
Lawrence District High School & Consolidated School Centennial (1864-1964)
Lovells Flat 1854-1975
Lovells Flat and Tuakitoto Schools History
Maori and Settlers in South Otago
Memories of Early Kaitangata
Our Heritage – Tokomairiro Presbyterians Church
Pioneering in South Otago by F Waite (published for Otago Centennial 1948)
Pounawea by A R Tyrrell
Reminiscences of the Early Settlement of Dunedin and South Otago by John Wilson published c1912
Schools by the Seaside – 125 Years of Port Molyneux School and the schools consolidated on it – Reomoana and The Nuggets
Surat (ship)
Te Houka, History of
The Inch – Inch Clutha and Stirling
The Mist of Time (Romahapa) – by Ethel U McLaren (1989)
The Two Posts – Puerua and Waitepeka by Ethel U McLaren (1996)
Those Were the Days – memories of Catlins residents
Tuakitoto and Lovells Flat Schools
Tuapeka – The Land and its People
Waipori Centennial
Warepa School, The First 70 Years (1858-1928)
Family Histories
AYSON family - Looking Back, Glenshee to Otago
BEGG, Family of Adam and Isabella
KINGS, The
MacDONELL Family
PATERSON, Life of William
ROBINSONS of Moneymore
TEAGUE Edward
Tang of the Bush – Story of Robert McLATCHIE – 1875-1963 by Kathleen Keene
Miscellaneous Indexes
First Families – We have recently begun compiling a collection of first families to South Otago from the early days of settlement with not cut off date. If you would like to contribute please download the form at right (two files – front 107kb, back 115kb). First Families Register form front.pdf      First Families Register form back.pdf
Clutha Leader – This index is not complete, nor has a beginning date and end date. This is made up of entries found in the Clutha Leader which the branch has on microfilm, recording any births, death, marriages, obituaries and other items of local interest that are come across in the process of doing branch research queries and other work. Lucky dip!! 
Miscellaneous Collection of Vital Records as at 25 March 2006 – This collection is unique to the branch.
NZSG Balclutha Branch Newsletters – The branch has been publishing eleven newsletters a year since February 2003 and these have been indexed.
Photo Collection – This digital photo collection is steadily growing - contributions welcomed.
Scrapbook Collection – Mostly newspaper cuttings


The Genealogist's Diet –
Fiche and Ships topped with tantalising sources
'Master Index' last updated 5 July 2012
© 2012 NZSG Balclutha Branch (Balclutha Genealogical Society)